National Healthcare Compliance Audioconference:
RAC Audit Appeals - Strategies and Defenses for Overturning Hospital RAC Denials

Tuesday, May 5, 2009
1:00 pm - 2:30 pm (Eastern)
12:00 pm - 1:30 pm (Central)
11:00 am - 12:30 pm (Mountain)
10:00 am - 11:30 am (Pacific)


AUDIOCONFERENCE FACULTY

Kathleen Houston Drummy, Esq.
Partner, Davis Wright Tremaine LLP, Los Angeles, CA

Thomas E. Herrmann, JD
Vice President, Strategic Management Services, LLC, Former Administrative Appeals Judge, Medicare Appeals Council (MAC), U.S. Department of Health and Human Services, Alexandria, VA



Lisa Krumpter, RN, MS
Appeals Manager RAC Liaison, Good Samaritan Hospital Medical Center, West Islip, NY



Andrew B. Wachler, Esq.
Principal, Wachler & Associates, PC, Author, "Recovery Audit Contractors and Medicare Audits: Successful Strategies for Preparing for and Defending Audits", Journal of Health Care Compliance, Royal Oak, MI

Stewart M. Presser
Vice President, Greater New York Hospital Association, New York, NY (Moderator)


AUDIOCONFERENCE OVERVIEW
Can You Achieve an 88% Success Rate on RAC Appeals? Learn Proven Hospital Strategies for Successfully Appealing RAC Denials
The RAC program is underway again, and hospitals will continue to be the major focus of attention. There is no way to prevent RAC denials, but hospitals can minimize the impact of recoupments by knowing what, when, and how to appeal. In this national audioconference, four of the most highly rated faculty members from the National Medicare RAC Summit join one of the most successful hospitals in terms of appeal success rates (an 88% win rate on medical necessity appeals) to show you how to develop and implement an effective appeal strategy for your hospital.
AUDIOCONFERENCE AGENDA
The Audioconference agenda is set forth in Eastern Daylight Time below:

1:00 pm
Welcome and Introductions
Stewart Presser, Moderator
1:05 pm
Dealing with RAC Denials: Determining Whether to Appeal
Kathleen Drummy

Assessment of probability of success
Cost-Benefit Analysis

Risk of future denials
Compliance issues
Appeal Costs

Availability of Physician and other professional support
Employment of the non-appeal processes

The RAC Rebuttal Process
Self-Disclosure and Voluntary Refunds
Other Corrective Actions

1:20 pm
Overview of the Appeals Process
Andrew Wachler

Demand Letter
15-day rebuttal process with RAC
Denials sent to Medicare administrative contractor (MAC), fiscal intermediary (FI), or carrier for adjustment
Five levels of appeal

First level: MAC, FI or carrier internal appeal
Second level: Qualified Independent Contractor (QIC)
Third level: Administrative Law Judge
Fourth level: Medicare Appeals Counsel
Fifth level: U.S. District Court

1:35 pm
Overturning RAC Denials on Appeal: the ALJ and MAC Perspectives
Thomas Herrmann

ALJ and MAC levels of review
the legal and evidentiary bases to support a successful appeal
whether to request an "in person" hearing, or agree to a video-teleconference (VTC) or telephone hearing
pleading with specificity the basis for the appeal
legal arguments to be advocated
evidence and testimony to submit into the record
reviewing the evidence in the record prior to the issuance of a decision

1:50 pm
How One Hospital Achieved a High Success Rate on Appeals
Lisa Krumpter

How we decided what to appeal
How we built and managed our appeals team
How we won our cases on appeal

2:05 pm
Panel Questions and Answers
Stewart Presser, Moderator
2:30 pm
Audioconference Adjournment


RAC EXPANSION SCHEDULE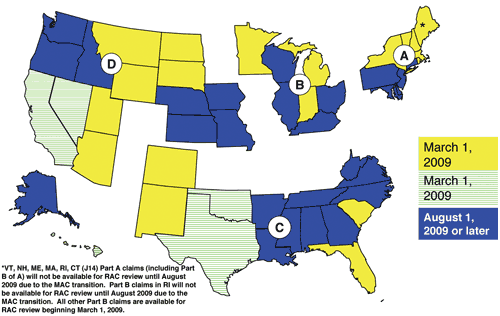 SPONSORED BY:

SUPPORTED BY:
SAVE THE FOLLOWING DATE
SECOND NATIONAL MEDICARE RAC SUMMIT
A Hybrid Conference, Internet Event and Training Tool
The Leading Forum on the Medicare Recovery Audit Contractor (RAC) Program
Media Partner: Harvard Health Policy Review
September 14 - 15, 2009
Wardman Park Hotel
Washington, DC
www.RACSummit.com
NOW AVAILABLE
RAC Summit Training Program, which includes preconference readings and online courses, the conference video with synchronized PowerPoint presentations and the post conference online exam. This content is perfect for corporate compliance training programs and can be purchased at deep group discounts. Click here for more information.
---