National Healthcare Compliance Audioconference:
Moving from RAC Demonstrations to Aggressive Program Integrity Efforts under Health Reform

Thursday, May 6, 2010
1:00 pm - 2:30 pm (Eastern)
12:00 pm - 1:30 pm (Central)
11:00 am - 12:30 pm (Mountain)
10:00 am - 11:30 am (Pacific)


"The fact is, Washington is a place where tax dollars are often treated like Monopoly money, bartered and traded, divvied up among lobbyists and special interests. And it has been a place where waste - even billions of dollars in waste - is accepted as the price of doing business. Well, I don't accept business as usual. And the American people don't accept it either, especially when one of the most pressing challenges we face is reining in long-term deficits which threaten to leave our children a mountain of debt."

President Obama in signing the Presidential Memorandum regarding "Finding and Recapturing Improper Payments," March 10, 2010.
ORDER THE CD FOR THE MAY 6 RAC AUDIOCONFERENCE
The CD for the May 6 audioconference featuring Kathleen King from GAO and Don May from AHA on the GAO report on RAC and the larger program integrity agenda facing hospitals is available.
Click here to order the CD.
"The Audio Conference was excellent. There should be more of them."
Thompson H. Boyd, III, MD, FAIHQ, CHCQM, CPUR, CPHM, CPHIMS
Physician Liaison, Hahnemann University Hospital
Philadelphia, PA
AUDIOCONFERENCE FACULTY

Kathleen M. King
Director, Health Care, U.S. Government Accountability Office, Washington, DC

Don May
Vice President for Policy, American Hospital Association, Washington, DC

Kathleen Houston Drummy, Esq.
Partner, Davis Wright Tremaine LLP, Los Angeles, CA (Moderator)
AUDIOCONFERENCE OVERVIEW
The Government Accountability Office (GAO) was tasked in December 2008 to evaluate the Recovery Audit Contractor (RAC) demonstration program. The final report and recommendations were released on March 31, 2010. Kathleen King will present the key findings from the GAO study, in which CMS concurred in all of the GAO recommendations. In the interim, RAC has moved into national implementation mode, and a 14-month struggle to achieve national health reform finally culminated in the President signing the Patient Protection and Affordable Care Act (PPACA), H.R. 3590, and its companion Reconciliation bill, H.R. 4782. The PPACA significantly broadens the program integrity landscape, with among other things a new auditing authority in Medicare Part C and Part D, plus a new contingency audit program in Medicaid. Don May will present the concerns and comments of the hospital community on the national RAC implementation effort and the new audit activities to come under health reform.
Reclaiming the funds associated with improper payments is a critical component of the proper stewardship and protection of taxpayer dollars, and it underscores that waste, fraud, and abuse by entities receiving Federal payments will not be tolerated. ... One approach that has worked effectively is using professional and specialized auditors on a contingency basis, with their compensation tied to the identification of misspent funds. Therefore, I hereby direct executive departments and agencies to expand their use of Payment Recapture Audits, to the extent permitted by law and where cost-effective. President Barack Obama, Presidential Memorandum regarding "Finding and Recapturing Improper Payments," March 10, 2010.
AUDIOCONFERENCE AGENDA
The Audioconference agenda is set forth in Eastern Daylight Time below:

1:00 pm
Welcome, Introductions, and Overview of Program Integrity under Health Reform
Kathleen Houston Drummy, Esq. (Moderator)
1:15 pm
Key Findings from the GAO Review of the RAC Demonstration Program
Kathleen M. King
1:40 pm
New Medicare and Medicaid Program Integrity Efforts Affecting Hospitals
Don May
2:05 pm
Panel Questions and Answers

2:30 pm
Audioconference Adjournment


RAC EXPANSION SCHEDULE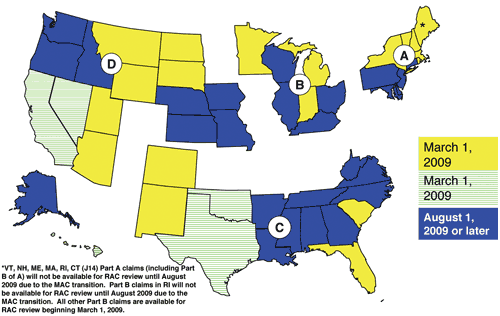 SPONSORED BY:

SUPPORTED BY:
SAVE THE FOLLOWING DATE
FOURTH NATIONAL MEDICARE RAC SUMMIT
A Hybrid Conference, Internet Event and Training Tool
The Leading Forum on the Medicare Recovery Audit Contractor (RAC) Program
Media Partner: Harvard Health Policy Review
September 13 - 14, 2010
Crystal City Marriott
Arlington, VA
www.RACSummit.com
NOW AVAILABLE
RAC Summit Training Program, which includes preconference readings and online courses, the conference video with synchronized PowerPoint presentations and the post conference online exam. This content is perfect for corporate compliance training programs and can be purchased at deep group discounts. Click here for more information.
---

This site complies with the HONcode standard for trustworthy health information:
verify here.